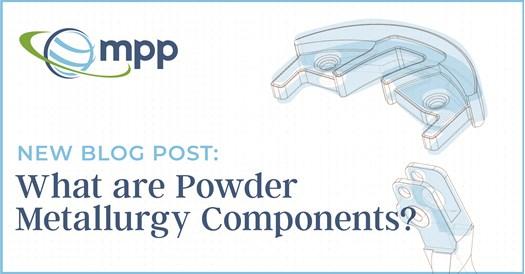 Does your business require the manufacturing of complex, precision metal components in a cost-sensitive environment? If so, you might want to consider learning more about powder metallurgy manufacturing.
What Are PM Components and Powder Metallurgy?
Powder Metallurgy (PM) components are made from powdered metal via a metal-forming process utilizing a wide range of ferrous and non-ferrous materials. Powdered metals are metal alloys that are processed into a very fine powder through high-pressure atomization. The metal powder is then compressed using compaction presses and custom-designed tooling, creating a near net-shape component. Once components are compacted to the desired specifications, they are sintered to achieve the final material specifications including hardness, tensile strength, and density. Powder metallurgy allows manufacturers to cost-effectively fabricate very detailed, complex parts with greater precision and efficiency when compared to other processes such as casting, stamping, and machining from stock.
How Do We Make Powdered Metal Parts? (How is metal powder made and how do we make powdered metal parts?)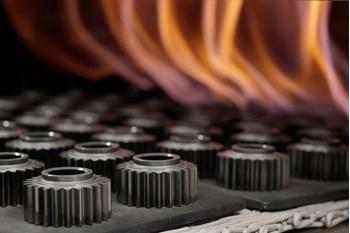 Beginning early in the design process MPP works with customers to create an efficient and cost-effective part design and select the right material. MPP is experienced in utilizing a wide range of ferrous and non-ferrous material, including iron, stainless steel, copper, aluminum, and soft magnetic materials. When the application calls for a custom alloy, MPP's metallurgical experts can design and simulate new metal alloys to meet customer requirements. All PM processes start with compaction, tooling is custom designed and built to fit the compaction press required for the component. A range of press tonnages are available to service both large and small components. Metal powder is then compressed, using several tons of force, to shape the powder to the part specifications. Once compacted, parts are moved to furnaces with strict temperature and atmosphere control to begin the sintering process. Sintering creates the molecular bonds between metal partials that ultimately create the structure of the part. After the part is sintered a variety of secondary operations can be used to achieve further tolerances.
Interested In Learning More?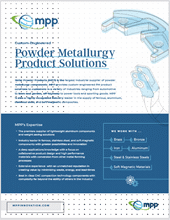 Metal Powder Products, LLC (MPP), an expert in powder metallurgy, can combine the right mix of metal powders to meet your unique strength and performance requirements to develop customized, complex, and sustainable components that enhance your products. With more than half a century of experience, MPP is a pioneer in the volume production of aluminum products, and an industry leader in the manufacturing of steel, iron, and stainless steel materials.
Need assistance with your parts manufacturing or want to learn more about powdered metal components? Contact MPP Today or download our Powder Metallurgy Product Solutions Brochure (PDF) for more information.
Who Is Metal Powder Products (MPP)
Metal Powder Products (MPP) is the world's largest industrial supplier of powder metallurgy components and a provider of custom-engineered PM product solutions to customers in a variety of industries ranging from automotive to lawn and garden, off-highway to power tools, and electronics to sporting goods
MPP is also the world's premiere producer of structural aluminum powder metal (pm) components and a highly recognized industry leader in the supply of ferrous, aluminum, stainless steel, and soft magnetic composites. With IATF and ISO certifications, quality is ingrained in MPP's processes.