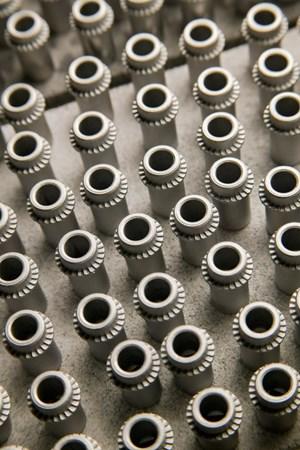 While there are numerous production technologies design engineers can rely on today like machining or powder metallurgy, metal injection molding is a cost-effective technology that's finally come into its own. After 25 years of evolution, metal injection molding can now boast a range of benefits over competing production methods. If you're a design engineer, procurement specialist, or business leader, you may wish to assess metal injection molding for its key benefits, uncovering how this matured technology can work for you.
What Are the Advantages of Metal Injection Molding?
If you need to produce complex or a high volume of small components and parts, metal injection molding is a competitive technology that affords the following benefits:
Metal Injection Molding Is Cost Effective
Increasingly, production operations are turning to metal injection molding for the fabrication of parts because of the terrific cost savings associated with the technology. Although this type of production may seem expensive for producing a few parts or components, it's highly cost-effective for large-volume productions. The technology also enables engineers to combine parts into one, which is another way to reduce production costs. If you need to produce quantities of parts, you can save money using metal injection molding.
Reduce Material Waste
MIM manufacturers are typically able to reduce waste by 50%. Moreover, it's not unheard of for producers to achieve 95% of material use in each product; that excess 5% (or any percent of excess material) can be recycled. That means that it is possible to achieve zero waste by switching to metal injection molding.
Reduce Assembly
As mentioned, producers can combine separate components into one in order to reduce costs. Doing that also reduces the assembly time, making for a more efficient process. By molding separate parts or components into one solid piece, the assembly time can be reduced and, depending on the nature of your product, even eliminated.
Traditional metalworking techniques can be limiting. Metal injection molding offers design engineers greater flexibility, and because the components can be produced with great precision to match the original design, they require less tooling or machining than parts made using other technologies. If your business produces parts in high volumes, take time to investigate how metal injection molding can enhance your production efficiency and cost savings.
Headquartered in Noblesville, Indiana, MPP is a leading global provider of custom-engineered powder metallurgy and metal injection molding (MIM) solutions for industrial applications. MPP provides complete design and engineering services from prototype through production, with eight production facilities in the U.S. and China specializing in the production of various components, including gears and sprockets, complex structural parts, high strength aluminum parts, and components requiring unique mechanical and physical properties, for use in high stress, wear and magnetic applications.
Contact MPP
Need assistance with your parts manufacturing or want to learn more about powdered metal components?
Contact MPP today.